A portfolio review is one of the best ways to talk to world-class experts about your work, get a better understanding of your position as a photographer, and learn the most to develop your vision.
The Fotofestival Lenzburg invites every year professionals of the international photography scene to review the portfolios of the Festival's participants: a unique occasion to meet personally, discuss your images in a one-to-one session and learn what is essential for you as photographer to grow.
Take your next step: Book now your appointment to one or more portfolio-reviewers. Places are limited.
Dates and Times:
Saturday, August 27, 14.30 – 16.30
Sunday, August 28, 13.30 – 15.30
Place: Stapferhaus, Lenzburg – Map
Price: CHF 40.–
For questions please write to: portfolio@fotofestivallenzburg.ch
Book now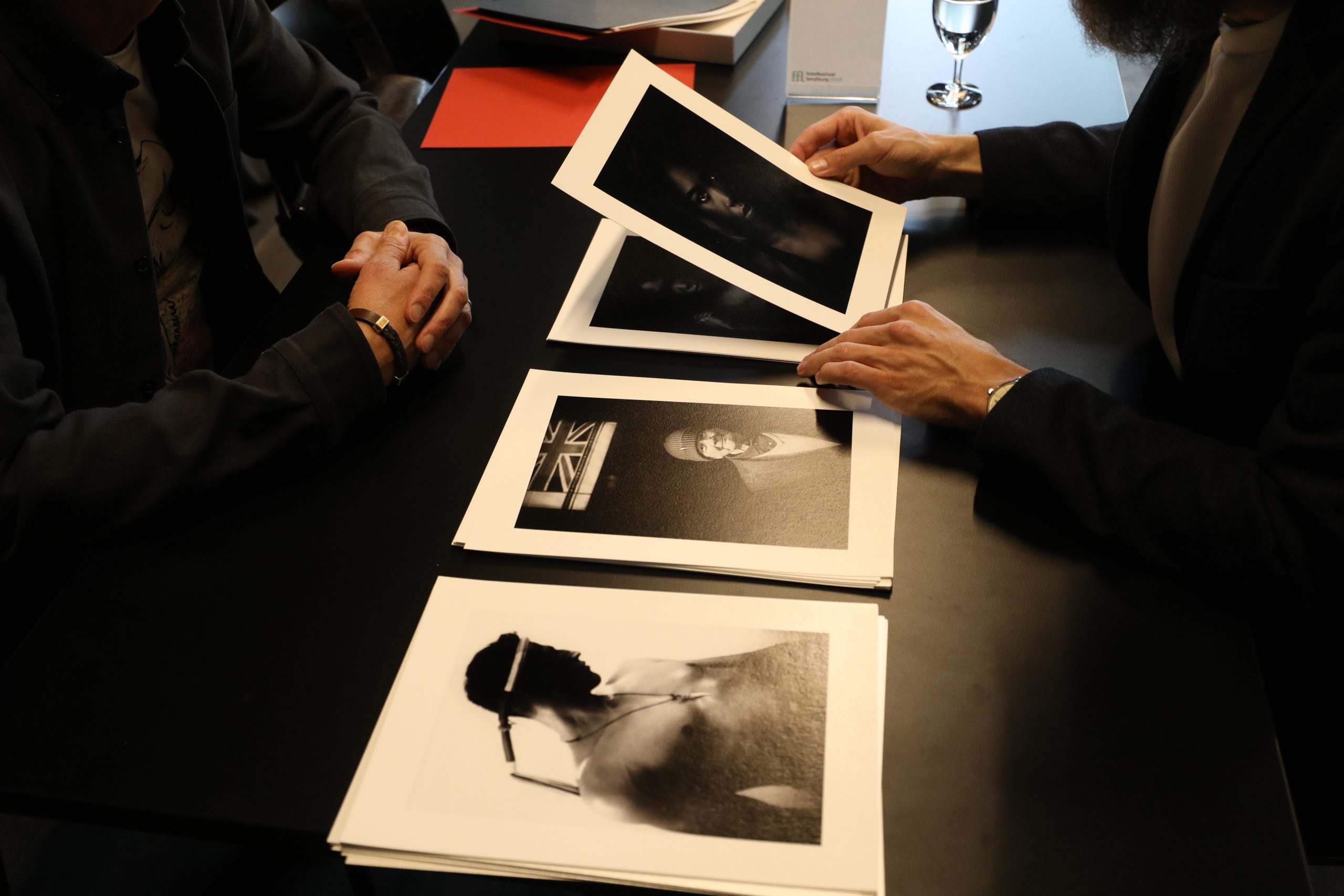 Daniel Blochwitz
Curator of the Fotofestival Lenzburg, independent Curator for photography
Reviews in German and English
Daniel Blochwitz (*1973/D) is a freelance curator for photography in Zurich. He studied photography in the USA and graduated with a Master of Fine Arts from the University of Florida in 2003. During his studies he taught photography for several semesters and curated his first exhibition together with Professor Barbara Jo Revelle. In 2003 he participated in the 50th Venice Biennale (Utopia Station) together with a small international group of artists and art historians around Martha Rosler. After his studies, Blochwitz went to New York at the invitation of the Whitney Museum to attend the postgraduate Independent Study Program there. In 2005 he began working for various galleries, initially in New York City and later as director of the Edwynn Houk Gallery in Zurich, which specializes in photography. Since 2015, Blochwitz has been a freelance curator specializing in photography and has realized various solo and group exhibitions for museums, galleries and off-spaces, among others on Vivian Maier, Arnold Odermatt and Lee Miller. In addition, he publishes, teaches and advises repeatedly on photography. Between 2017 and 2019 he was also given the mandate of artistic director and curator of photo basel, which he successfully developed further during this time.
Daniel Blochwitz is a member of the association Spectrum – Photography in Switzerland and was appointed to the Deutsche Gesellschaft für Photographie (DGPh) this year. Daniel Blochwitz lives and works in Zurich.
Ute Noll
Photo Director of Magazine Du
Reviews in German and English
Ute Noll is a magazine, book and exhibition maker with a focus on photography. Her project agency UTE NOLL VISUAL PROJECTS and her gallery UNO ART SPACE with a focus on international artistic photography have been based in Stuttgart since 2007. Ute Noll realises her projects internationally. Since 2013, she has been photo director at Du Magazin, Zurich, and is also responsible for the conception of Du Magazine in the editorial team and for its issue dramaturgy. Developing portfolio formats for various magazines since 1999 and author on photography since 2004. Co-festival organiser Darmstädter Tage der Fotografie since 2004. Lecturer FH Bielefeld since 2009. Since 2001, Ute Noll has been regularly invited to juries and international photofestivals such as Fotofest, Houston. In 2020 she was a juror for the Ilwoo Photographs Award, Seoul, the Foundation Prize for Photographic Art of the Alison and Peter Klein Foundation, Nussdorf, and the Nannen Jury Category Photography, Hamburg. She has been self-employed since 2007, before that she was, among other things, responsible picture editor, Frankfurter Rundschau magazine, 1999 to 2007. M.A. degree in sociology, Tübingen.
Sarah Girard
Director of the annual photo festival Bieler Fototage
Reviews in German, French and English
She is a member of the Commission of the Foundation for Photography, Film and Video of the Museum of Fine Arts Bern, of the circle of experts of Photobasel and is a regular expert for photography awards and portfolio readings (Rencontres de la photographie d'Arles, Bourse des Amis du Musée Albert-Kahn, MAZ). In 2019, she contributed to the launch of the photographic survey in the Bernese Jura. Since 2021, Girard is a member of the Board of Directors of the daily newspaper Le Temps.
Stephan Witschi
Gallery owner and curator
Reviews in German and English
Completed training with a diploma as an actor at the Schauspielakademie Zurich and further training as a film actor in Paris. He worked at various theaters in Germany, France and Switzerland. In 1999 he founded the off space "Vernissagefinis", which he has since steadily professionalized and expanded into a gallery. Today it bears the name "Galerie Stephan Witschi". Witschi is curator of various exhibitions.
Barbara Liebster
Author and curator
Reviews in English and German
After completing a Master's degree in German, English Literature and Art Studies at the University of Zurich, Barbara Liebster worked for five years as a radio play director and dramaturge at Radio SRF. Since 1990 she has worked as a freelance director at the Schauspielhaus, the Theater am Neumarkt and the Theaterhaus Gessnerallee in Zurich, at the Récréâtrales in Ouagadougou/Burkina Faso, in Germany and Austria and at the Alpodrom Theater Chur, among others, and as an author and radio play director for Deutschlandradio Kultur, NDR, SRF, SWR, ORF. Since 2005 she has increasingly devoted herself to the conception and design of exhibitions and spatial installations, as well as working as a curator. In 2021, together with Stephan Witschi, she set up the spatial installation Cabinet Carigiet at the Museum Sursilvan in Trun.
Whitney Latorre
Vice president of visual and immersive content at National Geographic
Reviews in English
Latorre earned her Bachelor of Arts degree from Barnard College and went on to complete a degree in American Studies at Columbia University. From 2007 to 2015, Latorre was a staff photographer at The New Yorker, first as picture editor and later as director of photography. Whitney Latorre has also worked at the Open Society Foundations, where she was a founding member of the Documentary Photography Project and directed an international grant competition and exhibition for documentary photographers. Her work has received numerous awards from the American Society of Magazine Editors, the Society of Publication Designers, and the International Academy of Digital Arts and Sciences (the Webbys). In 2018, Pictures of the Year International honored National Geographic's photography team with the Angus McDougall Overall Excellence in Editing Award and presented Latorre with an Award of Excellence in the Magazine Visual Editor of the Year category. In 2019, National Geographic was a finalist for the Pulitzer Prize for Feature Photography.