Husband and Wife, Harlan County, Kentucky, USA, 1971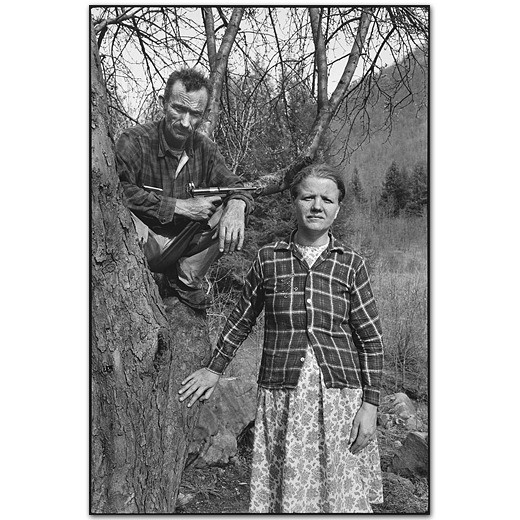 I was in Harlan County, Kentucky, to photograph Appalachian women for an assignment I was given by Pat Carbine at Ms. Magazine.
I was on a road near a general store. Suddenly, an extraordinary looking couple came out of the store. They lived on a nearby mountaintop and had come down to stock up at the general store. They truly looked like a couple from an FSA photograph. They saw that I had a camera. The husband asked me if I would take a picture of him with his gun. I said, "Fine." He jumped into a nearby tree and posed. I had taken about four frames of him alone when his wife slid into the picture beside him. He stayed there in the exact same position. He didn't even bother to move his gun, which was pointed directly at her head.
I've always felt it's best to let people do what they do rather than overdirect them. People sometimes do the most extraordinary things–much more interesting than I could ever dream up.