The Damm Family in their car, Los Angeles, California, USA, 1987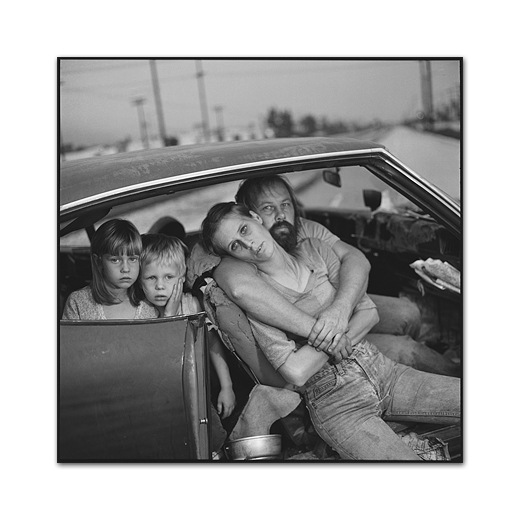 In 1987, Peter Howe, the director of photography at Life magazine, assigned me to photograph a homeless family. Anne Fadiman, a friend and a brilliant writer, went to California to find a family. The criteria was that we had to have full access. Anne found the Damm family, who were living at the Valley shelter in Los Angeles. They promised Anne full access.
I arrived in Los Angeles and later that night went to the shelter where the Damm family was staying. It was 4 AM., and they were all sound asleep. I started taking pictures immediately. That day they were being thrown out of the shelter and again forced to live in their car (along with their vicious dog, Runtley). We spent the next ten days following them around. Sometimes at night we parked our van alongside their car where they slept.
Linda and Dean allowed me to photograph every moment of their family's lives, even the most painful times. Jesse and Crissy are Linda's children from a previous relationship. The effect of the stress on the children was very apparent. When a social organization found a motel for the family to stay in for two nights, Crissy immediately lay down on the floor of the shower, and Jesse sobbed uncontrollably in a corner. All they could think of was how temporary this respite was and that soon they would be living in their car again.
While I was working with the Damm family, I thought about making a strong portrait of them in their car. It was impossible to take the photograph inside the car, because there just wasn't enough space. Also, Runtley was a ferocious pit bull, and he would most surely bite me; the car was his territory. On the last day, I asked them to stop their car near a railroad track, and I made this picture. I took several frames, but when Crissy spontaneously reached up and gently touched Jesse's face, I knew that was the photograph.