Amanda and Her Cousin Amy, Valdese, North Carolina, USA, 1990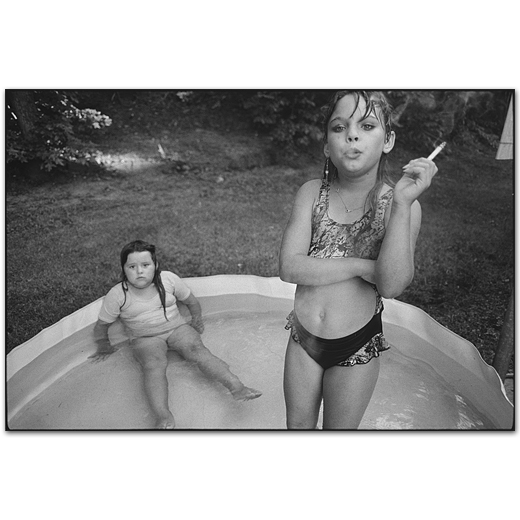 In 1990, Peter Howe at Life magazine sent me to North Carolina to photograph a special school for children with problems. The school was a very strange place because all of the twenty or so children were in the same classroom and their problems ranged from mild behavior instability to severe schizophrenia.
Nine-year-old Amanda was the most interesting child in the class. She was my favorite child. Amanda was very intelligent and very naughty. One day I followed her home on the school bus. When the bus stopped at her house, she dashed ahead of me and ran into a nearby wooded area. I continued to follow her into the woods and eventually found her sitting in an old stuffed chair having a cigarette. She thought that I would reprimand her since I was an adult. But I said nothing.
The following Sunday, I spent the day at home with Amanda and her mother. Amanda totally controlled her mother. She constantly gave her orders and proceeded to put on her mother's nail polish and makeup. Amanda smoked openly in front of her. Her 8-year-old cousin Amy was coming over, and she was very excited. All day long, Amanda and her cousin played like children. Every forty-five minutes or so, Amanda would take a break to have a cigarette. Her mother could say nothing; Amanda was the boss.
Just before I left, I looked for Amanda to say good-bye. I found her and Amy in the backyard. They were in a children's inflatable pool. Amanda was taking her regular cigarette break.