Jeanette in Labor, Cumberland Hospital, Brooklyn, New York, USA, 1978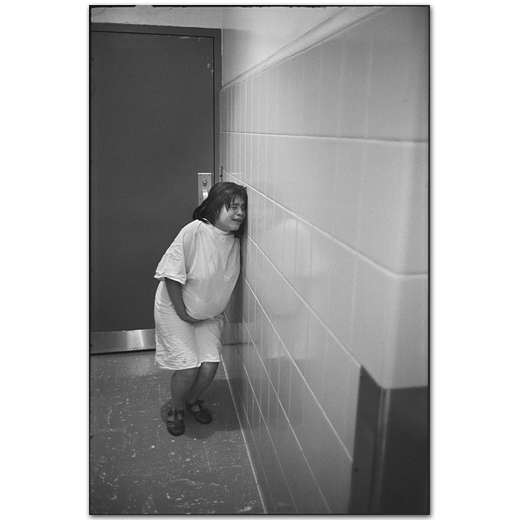 At the Puerto Rican Day Parade in 1978, I was walking through Central Park taking pictures. I saw Jeanette Alejandro and her boyfriend, Victor Orellanes, sitting on a bench with lots of balloons. What was intriguing about Jeanette was that she was the youngest-looking pregnant teenager I had ever seen. In truth, she was 15 and Victor was 14, but they looked even younger. I asked her for her phone number and called her about a week later.
For the next four months, several times a week, I went to Brooklyn to photograph Jeanette, Victor, and their extended families. Fred Ritchin, the picture editor at the New York Times Magazine saw the pictures and published them. I always knew that the most important moments to capture in this project would be when Jeanette went into labor and gave birth.
I continued to photograph Jeanette's pregnant life. I followed her and Victor to local voodoo ceremonies, in the park, and at Coney Island. I followed them at home and all around their Brooklyn neighborhood. I witnessed tearful physical fights between Jeanette and her sisters. I saw Jeanette get larger and larger with her pregnancy and feel more and more isolated from Victor, her family, and her friends. Eventually, she adopted a puppy and practiced bottlefeeding on him.
As Jeanette's due date came closer, I became more and more anxious about reaching the hospital in time for the labor and birth. I gave my home number to everyone and promised a twenty-dollar reward to the person who would call me the moment she went into labor. I checked my answering machine constantly. Finally, one day, there were about twelve messages waiting for me. I immediately realized that Jeanette was probably having her baby. When I arrived at Cumberland Hospital, all of her friends and family were waiting for their twenty dollars.
Jeanette's labor was very dramatic. She suffered a lot. I don't think she was prepared for the ordeal. Chastity was a big baby: she weighed 7 pounds 11 ounces.
Jeanette proved to be a natural mother. She moved in for a while with Victor's family, but that didn't work, so she came back to live with her own family. A few years ago, I made contact with Jeanette again. She was living on Staten Island. She and Victor were no longer together, but they are still friends. Victor is a good father to Chastity. Chastity was grown up and going to college. Jeanette had two other children who are not Victor's children: a daughter who is extremely bright and beautiful and a young son who was the perfect little handsome macho boy. She told me that she hasn't necessarily been lucky in love, but she has been blessed with wonderful children.
Photographing Jeanette was a great learning experience for me. I learned how important it is to stay with a subject and become a part of his or her daily life. I also learned that you can capture more intimate moments by blending into the background. This project was a turning point for me.